Midalidare Sparkling Wine won the highest accolade
Дата на публикуване: 05/11/2019
A long journey begins with a single step ...
In 2018 the Midalidare Sparkling Brut: first sparkling wine by the estate, was introduced. During DiVino Taste, the biggest forum for Bulgarian wine, а special guest and lecturer of the event was Mr. Tom Stevenson - the man considered as the most authoritative expert in the world on Champagne and sparkling wines. He held a very interesting master class and tasted for the first time all Bulgarian sparkling wines, while remaining pleasantly surprised by some of them. After the tasting, the positive reaction and criticism gave confidence that Midalidare Sparkling Wine is worthy of the world sparkling stage. In January 2019 three samples were sent as participants in the most prestigious global sparkling wine competition The Champagne & Sparkling Wine World Championships (CSWWC): Midalidare Sparkling Wine Brut Magnum, Midalidare Sparkling Wine Brut and Midalidare Sparkling Wine Blanc de Blancs Magnum. After a blind tasting in July, the samples were awarded one gold and two silver medals.
Annually, at a traditional formal dinner, all the medalists, the prize-winners and Best in Class certificates winners are awarded. Yesterday, on 4th of November 2019, at Merchant Taylors' Hall in London, the oenologist and CEO Aleksandar Aleksiev was pleased to receive the great accolades by the name of Midalidare.
Midalidare sparkling wines were awarded with two Best in Class Certificates: Best in Class Bulgarian Blanc de Blancs and Best in Class Bulgarian Magnum, 4 nominations and two prizes: 2019 Best Bulgarian Sparkling wine and The Tony Jordan Rising Star Trophy 2019 for Midalidare. Midalidare Sparkling Wine Brut in Magnum is awarded with Gold medal while Silver medalists are Midalidare Sparkling Wine Brut and Midalidare Sparkling Wine Blanc de Blancs in Magnum.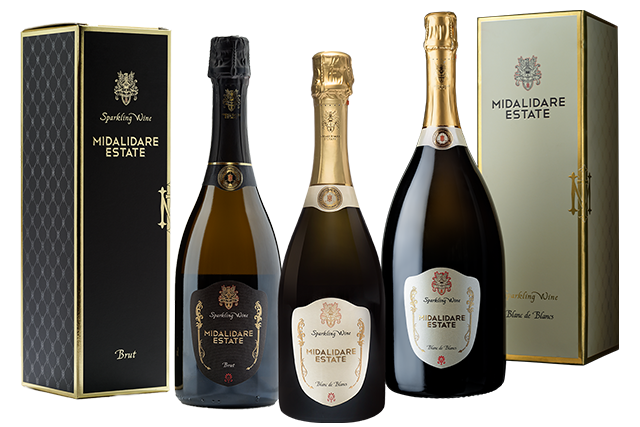 And a part of the mighty company of Midalidare at the event, the awarded:
Sparkling Wine Producer of the Year 2019 – Ferrari Trentodoc
Supreme World Champion 2019 – Dom Perignon 2004 Brut in Magnum
Chairman's Trophy 2019 – Palmer & Co 2003 Grands Terroirs in Magnum
World Champion Classic Brut Vintage Blend – Louis Roederer 2012 Brut Vintage in Magnum
World Champion Classic Rose – Ferrari 2013 Perle Rose
Best Franciacorta 2019 – Ca' del Bosco 2009 Annamaria Clementi in Magnum
Best Champagne 2019 – Dom Perignon 2004 Brut in Magnum
It is an exceptional pride and honor for Midalidare to receive two of the most prestigious awards in class. The fact that a sparkling wine from Bulgaria achieves the highest possible accolade, and this wine is Midalidare Sparkling, is an outstanding acknowledgement. A great moment devoted to the estate's team: the people who worked hard and weaved their passion into every single bottle of Midalidare wine.
05.11.2019