Midalidare Sparkling Blanc de Blancs in Magnum
Дата на публикуване: 20/01/2020
Midalidare has already become a winery, known both in Bulgaria and abroad for its high quality sparkling wines produced under the traditional sparkling winemaking. The exceptionally successful project was introduced on the market in 2018 and was highly recognized in the following 2019 by The Champagne & Sparkling Wine World Championships (CSWWC).
Winner of Best in Class Bulgarian Blanc de Blancs certificate and Silver medal in the Sparkling Wine Bulgaria category, Midalidare Sparkling Wine Blanc de Blancs Magnum is now commercially available. A sparkling wine produced under the traditional method of 100% Chardonnay grapes, Blanc de Blanc Magnum is a great holiday offer, especially for large companies. Each bottle is individually packaged in a stylish box: a great gift for sparkling wine lovers.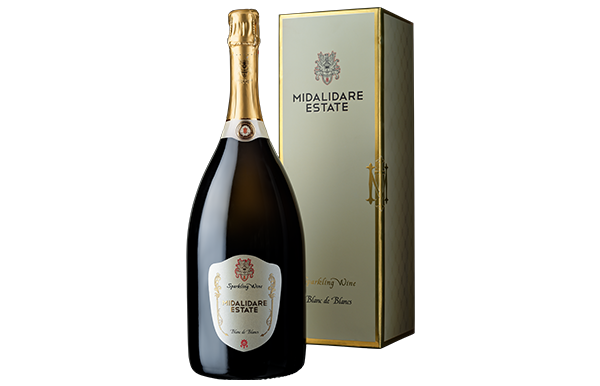 The wine is produced using the traditional method for sparkling winemaking typical of Champagne (France), which includes the following steps: Whole-cluster pressing; Stainless steel fermentation; Bottling and Secondary bottle fermentation; Maturation (on the lees); Remuage (ridding); Degorgement (disgorgement); Dosage; Poignettage (shaking) and Mirage (inspection).
Midalidare Sparkling Blanc de Blancs Magnum is crispy, rich and fruity wine that develops a toasty finesse and fine, elegant mousse. A generous floral nose and deliciously refreshing, yet rich palate are ending up in clean, satisfying finish.
Midalidare Sparkling Wine Blanc de Blancs in Magnum is available in representative shop, situated in the area of the bigger eastern winery in Mogilovo village and online at the e-shop of the winery.
20.01.2020